Mastering Color
Thinking back to my own struggles with color in my beginning years and my experience doing painting demonstrations and teaching workshops, I think that learning to mix and control color is one of THE biggest hurdles for most beginning artists. There is just so much to learn about how color works.
Let's face it; anyone can slap paint on a piece of paper or canvas. The trick is learning to control it so you know how to apply the RIGHT COLORS in the right places.
This is what separates the beginner from the experienced artist.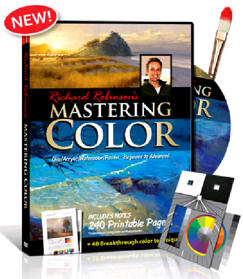 Without a good instructor to help you navigate this involved subject, you can muddle along for years on your own. I can testify to that. There certainly was some muddling during my 40+ years in art.
So when you find an articulate and experienced instructor who can make the ins and outs of color understandable and help you bypass those years of struggle, grab him.
For my money New Zealand artist
Richard Robinson is that instructor
. Richard is both an accomplished painter and a successful teacher.
He has produced an excellent DVD, called Mastering Color, that teaches you the essentials of understanding and using color.
While he demonstrates his points using oil or acrylic, the essentials he talks about apply to almost every medium.
---
Listen to what one aspiring artist said after studying these lessons:
"I am a watercolor painter; however I did find the information very helpful, easy to follow and in many ways applicable to my medium, as well as oil painting."
Charlene B.
---
Richard has been a professional painter since 2001, but he openly admits that when he began this DVD he found he didn't know as much about color as he thought.
He realized he had only been painting intuitively, so he began reading everything he could get his hands on about color.
It took him a year to organize what he learned and create a program that makes these absolute essentials of using color understandable and absorbing.
As a result, he not only became a better painter, but also a very knowledgeable teacher.
---
Richard's DVD so impressed master painter Robert Genn, one of Canada's most successful artists, that Mr. Genn told his 50,000 name email list about Mastering Color:
"Understanding colour is illusive, and handling it properly has to be learned.

With candour and clarity this young painter has summed up in 125 minutes (plus printable lesson notes) the essentials of colour theory and practice: seeing and describing colour, colour mixing and manipulation, colour harmony and light effects.

I don't often recommend products in these letters, but this is a good one."
---
In this 2 hour DVD, plus 240 pages of printable notes, Richard packs everything you need to know into eight understandable chapters:
Color Theory
Seeing Color
Describing Color
Value
Mixing Color
Manipulating Color
Color Harmony
Light Effects
But he doesn't stop with just giving you step-by-step information. He also gives you easy exercises to do, so you immediately put into practice what you've learned.
Let other aspiring artists muddle along…
You will learn to control color.
You will learn how to mix and get the colors you want.
You will learn how controlling color and value are two essentials of creating a great painting.
You will learn how to choose colors that work well together, so your painting grabs the viewer's eyes and won't let go.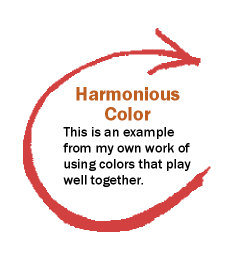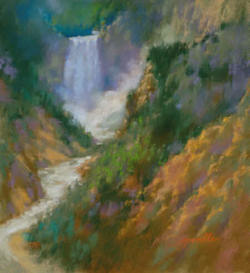 You will learn why using fewer colors at first can actually help you gain greater control.

You will learn the three ways of mixing paint to produce different colors.

You will learn why adding just black to darken a color or adding just white to lighten it can create problems for you.

You will learn how to create mood with color.
The bottom line is this: Mastering Color will make you a better painter.
This well-taught DVD is a wealth of information that will show you everything you need to know to get comfortable with color.
I mean really, what is it worth to you to avoid years spent struggling to learn and control color?
What is it worth to you to have everything you need to know about color in one easily accessible place?
What is it worth to you to finally find an instructor who not only knows his stuff, but makes it easy to understand?
The $55 ($45 for download) you invest in yourself to get Mastering Color will pay off many times over by:
---
Guarantee
Richard is so sure of the results you will get from his DVD that he offers an ironclad guarantee.
He wants you to be so absolutely, jumping-up-and-down-with-joy satisfied with Mastering Color that if you're not, he will give you 100% of your money back. If within the first 30 days, you don't believe Mastering Color is the answer you've been searching for to finally understand color, just return the DVD and get every cent of your money back. Period.
---
There you have it. No more wasted time. No more wasted money. No more pain and frustration, plus a 30-day ironclad guarantee.
Click here to order Mastering Color now.
All for the miniscule investment in yourself of $55 ($45 for download). How can you possibly go wrong?
Plus, you automatically receive my weekly email newsletter that's designed to challenge you and promote your creativity.
Click here to order Mastering Color now.


Go from Mastering Color to Home Page