Measure and master proportion     like an artist.

...

 
Learn how to transform drawing into art.

I hope you've come to this page to create successful art - art you are proud to show anyone. Because...

…unfortunately, if you are like most aspiring artists you constantly run into problems trying to do that. You end up wasting hours of effort by making drawing and creating art much more complicated than it needs to be.
And when that happens it leads to confidence-bruising frustration.
That happens when you ignore or have never adequately been taught the one basic skill that is the basis of all successful art…
…learning to draw accurately by mastering proportion…
…learning to draw everything the right size, the right shape and in the right place. (Like student Salvador Barajas did in his drawing at right.)
If you don't do that, your subject never looks quite right, and no amount of paint can hide that fact.
And to make matters even worse you can continue to struggle for years, never realizing why you have these problems.
.......What effect do you think that has         on your confidence?..
Well, you are far from alone in this situation.
I've been creating art for more than 40 years, and I still remember struggling with this problem in my beginning years.
I took the same hit to my ego that you may be experiencing. The difference is that over the years I've developed ways to simplify the process of drawing.
Eighteen years as an illustrator, where deadlines were always tight, taught me to look for faster, easier ways of doing things.
I developed methods and shortcuts to take the complexity out of mastering proportion and learning to draw.
I've taught many aspiring artists how to do that, so they start projects with confidence and enthusiasm.
And the even better news is these methods and shortcuts I'm going to show you are not hard to learn. Like anything worthwhile they do take practice, but they are not rocket science at all.
Believe me; I am just like you. I don't want to work any harder than I have to in order to complete art successfully.
But, be careful…
---
The First Drawing Technique Everybody And His Brother Try To Teach You Is The Visual Method of Measuring Proportion.
And make no mistake; learning how to use your pencil to do this is an important tool. It helps teach you to see and draw proportions accurately.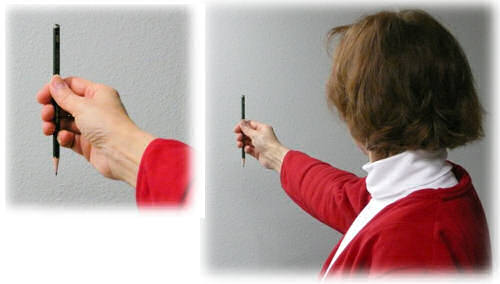 But…
This is where things can get unnecessarily complicated, because everybody and his brother don't teach you...
What should you actually measure? What is important to measure and what isn't? As one of the subscriber's to my blog lamented:
---
"I get discouraged sometimes when the image I try to draw has too many elements in it, so measuring everything is tedious."
---
News Flash: You don't need to measure everything. That would be boring, boring, boring.
You want to keep the process of mastering proportion and learning to draw as simple and as uncomplicated as possible.
---
Do You Create Art So You Can Toil And .......Struggle Or So You Can Express           Your Creativity?

As I said earlier, learning how to measure proportion with a pencil is important, but…it's only one method and not always the best or the easiest one.
I will show you how to simplify drawing and teach you the things you need to know in order to do that.
---
You need to know an easy way of measuring on a photograph where a pencil could be really cumbersome.

You need to know what is important to measure, so you can get on with the fun of drawing or painting your subject.
You need to learn how to make those important initial measurements and then accurately draw the rest of your subject without measuring.

You need to know the simplest way to begin your drawing to avoid getting bogged down in details.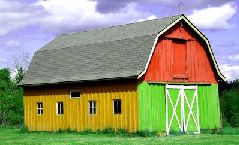 You need to know a quick and simple method for drawing perspective without knowing a thing about vanishing points or picture planes.

You need to know how to easily enlarge or reduce your subject to any size you want to draw or paint it.

You need to learn how measuring and mastering proportion help you draw people.
And you need to learn these things in an uncomplicated, fun and engaging way.
 Want To See How A Giant Ferris Wheel      ........And A Flamboyant Musk Ox Can         Teach You To Draw Well?.......
---
Those are just two of the engaging subjects I use in my Mastering Proportion and Learning to Draw DVD. I use these unusual subjects to spark your interest and teach you the basis of all good art – seeing and drawing accurately.
Once you learn to draw accurately, you can use your creativity to transform your subject into interesting art. That's another important lesson on this DVD.
---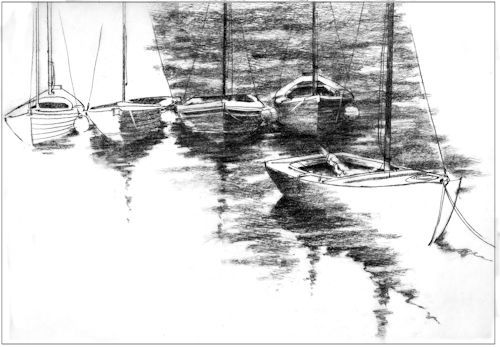 ---
I spent over three months making sure that everything on this DVD is explained and demonstrated as simply and as clearly as I know how.
That's why the very first person to buy Mastering Proportion and Learning to Draw wrote me immediately saying:
"I am sure this DVD will make immediate improvement in many people's work and make for some very happy customers! Lots of handy guidance to get everything in place.  Great job, Gary; I hope you sell a stack of these!" Mark Williams of Charlotte, North Carolina
---
........Take The Struggle Out                     Of Creating Art..........
The methods, tips and shortcuts I show you make drawing your subject much easier, more accurate and more fun, so you can begin using a ton more of your talent and creativity.
And I'll show you all these easily-learned methods, tips and shortcuts on one DVD, called Mastering Proportion & Learning to Draw.
I spent all that time perfecting this DVD, because I want you to quickly understand these crucial tools and start putting them to immediate use.
All my methods, tips and shortcuts are yours for $29.97 plus $3.50 shipping to anywhere in the U.S. or $7.00 to Canada.
Please Note: this DVD will only play on televisions made for the U.S. or Canada. TV's in other parts of the world use a different format. For other parts of the world, there will be a download version in the near future.
And it comes with a 30-day-no-questions-asked-refund-every-cent-you-paid-money-back guarantee. I'm willing to take all the risk on your purchase of this DVD, because I've seen how much it excites and transforms those who buy it.
If at any time in the first thirty days you aren't satisfied with the information on this DVD, just return it and I will refund every cent you paid. No questions asked.