Measure Proportion Like An Artist

The Crucial Skills Every Beginning Artist Needs To Draw With Creativity and Confidence.
If you can see your hand in front of your face,
you can learn these skills.
To some beginner artists, learning to measure proportion like an artist sounds like slogging through quicksand. Something to avoid at all cost - like eating broccoli.

The result? They can end up deeply disappointed with the art they create and lose confidence in their ability to create it.

"I found when painting that I was avoiding the 'difficult' subjects that I really wanted to do, precisely because my drawing was weak."

It does not have to be this way.

The ability to measure proportion like an artist - so everything in your art is the right size, the right shape and drawn in the right place - is crucial to its success. BUT, it does not take an art degree to do this.

Yes, learning any new skill takes practice.
And, because it's a new skill, in the beginning it may even seem a bit complicated.
However…think back to your first weeks behind the wheel of a car. If you were like me, learning to drive seemed very complicated.

You had to constantly peer ahead for cars… pedestrians… street signs…traffic lights. And check your mirrors. Quickly glance at the speedometer. Flick your turn signal. And apply just the right amount of pressure to the gas pedal. But, be ready to jump from the gas to the brake at any moment.

Oh, and do all those things simultaneously as you turn the steering wheel and go left at the intersection.  

Yet… now you do all those things with hardly a moment's thought. And successfully get where you want to go.
 
That's why learning to measure proportion like an artist is so important.
With practice, you can successfully get to where you want to go in your art. And get there with skill…  confidence… and creativity.

The downloadable course I created to boost these skills is called Mastering Proportion and Learning to Draw.

I've packed it with many of the little tricks I've used over the years to speed up, simplify and enhance drawing ability.
It took me many years to learn all these things. And months to organize them into a course. You can learn them in one hour and fifty-seven minutes.

Andrea from Michigan:
What helped me the most was when you taught how to draw more than one object in a scene and place them all in proportion to their surroundings! Thank you for sharing your talent, fondly, Andrea"



What you will find In Mastering Proportion and Learning to Draw:


• A proven drawing process refined during 40+ years in art.Simple principles to draw everything so finally they look right.



• The HUGE mistake most aspiring artists make as soon as they begin. You'll be surprised how easy it is to correct this error.



• Why doing a completely accurate drawing is unnecessary. Striving for total accuracy may actually stunt your creativity.



• Breaking the rules can help you create better art! Learn how to break the rules with confidence.



• Draw your subject correctly ANY size you want. Three methods you can use immediately.



• Super simple way to measure proportion like an artist would in a photograph. This was never taught in art school; I developed it during my years as an illustrator.




• Three easy ways to draw difficult angles. No more frustrated erasing and correcting your lines. 



• Master drawing proportions correctly using two simple, household items. Don't buy any expensive drawing supplies before taking this course!



• Why measuring the proportion of just two things is often all you need. Why it can be a frustrating waste of time to do more.



• The "rule" that makes drawing much easier. Don't pick up your pencil until you make this decision.



• When drawing animals, make this your first step. A simple technique Walt Disney animators have used for decades.

.............................................................
• The two procedures that are the dynamic duo of drawing. Never again avoid subjects that are "too hard".



• Recognize tricks your mind can play on you. Discover how your brain can ignore your eyes and make you see things that are NOT true!

Keith Ruiter in Shandong, China
"Hi Gary, I just finished watching your course on learning to draw in proportion. Liked it very much and wished I had learned this way back when I started to draw."




"How Can I Be Sure This Will Work?"

Now, I realize the skeptic in you may still be thinking, "How do I know this Gumble dude isn't trying to sell me a bunch hooey, so he can snatch my money and flee to Bali with his under-age mistress?"

Well, just to prove how much faith I have in you and my downloadable course, I created an ironclad, no-risk-to-you guarantee.
Mark Williams in Charlotte, North Carolina
"I am sure this course will make immediate improvement in many people's work and make for some very happy customers! Lots of handy guidance to get everything in place.  Great job, Gary."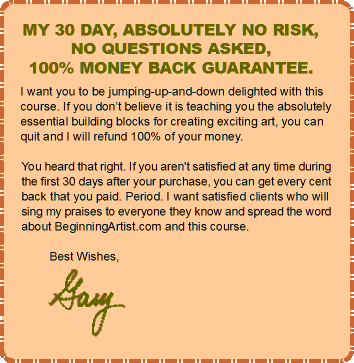 Download my course now for $19.97 and use it for 30 days. If you aren't satisfied you've learned valuable lessons in drawing, just email me and I will return every cent you paid.

I'm proud of the course I've created. I want you to be proud of the new skills you will learn.
Best Wishes,
Gary Gumble
Founder of BeginningArtist.com
Without art the crudeness of reality would make the world unbearable. (George Bernard Shaw)
P.S. Make the things you will learn in this course a part of every piece of art you do. You will soon be measuring proportion like an artist and making art more skillfully… more creatively… more confidently. Guaranteed. And for only $19.97.