Imagine -The Blog of BeginningArtist.com


The One Thing That Will Help You The Most

If you and I could sit down together and talk, what is the one thing you'd want me to show you that will help you the most?
The one thing that, when you learned to do it well, would...(read more)
Painting Tips For Any Painting Medium


"Come on Gumble, how can painting tips be useful for any painting medium?"

"This blog post sounds like a bunch of hooey."

Pastel is pastel. Oil is oil. Acrylic is acrylic. They are all totally different, right? (read more)

You Create The Star Of Your Art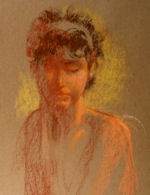 You control what the star of your art is.
Just like a movie, a drawing or painting needs some star power.

To create interest …to grab a viewer's attention…

… and pull their eyes into your art. (read more)


Painting Ideas And Tips From A Master


If you want good painting ideas and tips, look no further than the work of Zhaoming Wu.

The drawings and paintings on his website (www.zhaomingwu.com/) provide a great online art class, if you stop and study them.

And this is quite fitting, because… (read more)

Cool Painting Ideas For Hot Landscapes

Cool painting ideas can be found almost anywhere.

But, have you ever noticed that it's easier to get excited about a landscape idea when the scenery is different than back home?

At least it is for me. I love to travel. And I love taking pictures of...(read more)
Landscape Painting Tips For Beginners


One of the landscape painting tips for beginners I recommend most is learn to draw.

Because one of the crucial core art skills for any artist, beginner and veteran alike, is imagining how to make an interesting scene into an interesting piece of art.

And often you only discover how to do that by...(read more)