A Postcard From Spain.


Have you ever wanted to live in another country? Experience a different culture?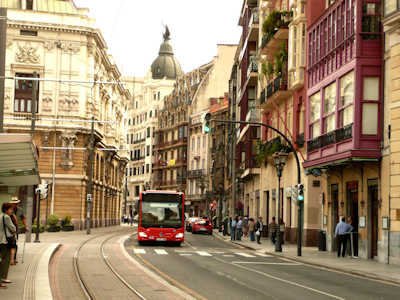 My wife and I have talked about doing that for some time now. That's part of the reason for our recent exploratory trip to northern Spain.
Choosing northern Spain versus another part was due to two things: a moderate climate and a reputation for good food.

As part of our exploration, we also wanted to begin to see if we could run our respective internet businesses while traveling.

The trip began in Bilbao, a working class city that still provided a charming downtown.
Bilbao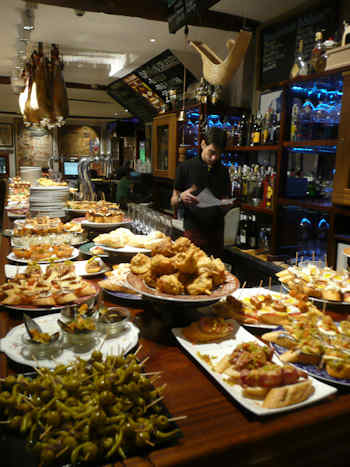 And one of the charms was a wonderful and inexpensive public transit system of buses, trams and Metro (subway).
But, no matter how you travel, you're going to get hungry.

And in northern Spain, especially in the Basque region, you can make a lunch or a dinner from the pintxos (pronounced pinchos) offered in almost every bar.

This array at right is more elaborate than most, but, even seen this small, still looks pretty appetizing.

But if you want something else to eat or drink, you can sit outside and soak up the sun at any local café.

San Sebastián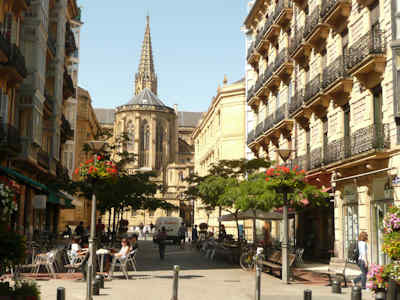 Left is a pedestrians-only street lined with cafés in our second stop – the coastal city of San Sebastián.

Outdoor cafés were something we encountered everywhere we went.

The other things that seemed to be universal were history around almost every corner and buildings no taller than five stories.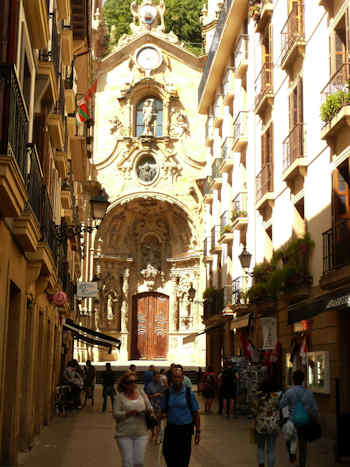 Coming from an area that is building more and more skyscrapers, I enjoyed walking through areas built on a smaller, more intimate scale.

Which isn't to say the Spanish don't have taller, more elaborate structures.

It's just that they seem to have saved those characteristics for their churches and cathedrals.

At right is the church of Santa María in San Sebastián.
From San Sebastián we made the six-hour train ride to Barcelona for a few days.
Barcelona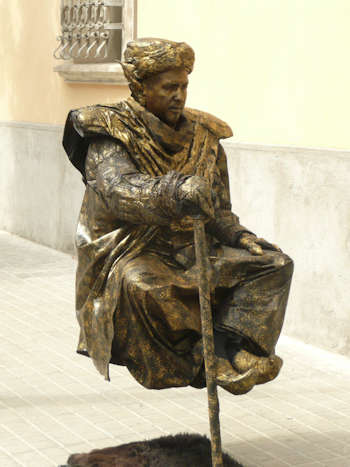 One of the delights of Barcelona was our encounter with the"living statues" on the large and busy street, "Las Ramblas."

Every year Barcelona holds auditions to see which performers get spots on this wide touristy street.

In this gentleman's case I'll let you try to figure out how he floats in midair.

I couldn't, and I was there.
Collioure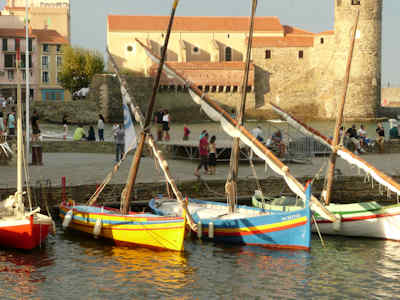 From Barcelona it was a short train ride to the town of Collioure, just across the border in France. 

These boats, tied up in the harbor, never moved while we were in Collioure.

I don't know whether they actually were used for something or were just there to be picturesque for tourists like me to paint or photograph.
You can click here to see art I did from Collioure.

Best Wishes,
Gary Gumble
Founder of BeginningArtist.com
(Without art the crudeness of reality would make the world unbearable. George Bernard Shaw)
P.S. We aren't quite sure how we are going finance this dream of living in another country yet, but that's one of the details we are working on now.

At my wife's suggestion we have drawn a line in the sand (as she put it), and said we are going to be moving abroad no later than December 31, 2016.

I can't wait.

P.P.S. Have a friend who would enjoy this article?
Send it to them and invite them to join my blog.
Click here to Subscribe.